Update #25 - Getting closer to the Nuclear Throne - Week of May 2nd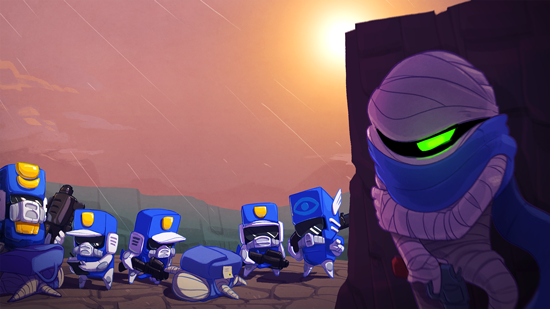 This is a big update!
We're slowly closing in on the Nuclear Throne, and this update will give you a very first, very rough preview of the Palace, last area before the Throne. We have some beautiful art by Paul Veer, and incredibly creepy/sad/epic music by Jukio Kallio. There's a work in progress version of Palace Guardians in there, and a ton of IDPD. It'll prove a fun challenge for experienced players until next week, when the area should be less of a preview and more of a real thing!
There's cool sound news too: Joonas Turner brings you footsteps! It took a while to implement, since some of our characters have 3,4 or 0 feet, but things worked out!
Other than the usual bug fixes (expect a lot more of those next week) and balancing, we also throw in 3 relatively low level new weapons: the super-close combat Sawed-off Shotgun, the Splinter Pistol (doesn't fire much splinters, but the rate of fire is off the chars), and the super powerful Super Splinter Gun. Enjoy!
We'd love to hear your thoughts on all the new content!
Features
The Palace.

Footstep sound effects.

Sawed-off Shotgun.

Splinter Pistol.

Super Splinter Gun.

Icon for Sharp Teeth, and HUD icons for Sharp Teeth & Racing Mind!

Floors now have "materials", which will allow us to do cool tricks in the future, and for now just makes them trigger the right footsteps.

Balancing

Splinter Gun spawns fewer splinters.

Lightning Pistol can spawn slightly sooner.

Bloodlust and Lucky Shot both trigger a tiny bit more.

The Assault Slugger now takes a lot longer to reload.

Fixes

Enemies getting hit/killed sound effect volume is no longer affected by gunshots/swings, so melee kills should have their crunch back!

Fixed the notorious "no portal at Big Dog" bug!

Boiling Veins + odd number HP no longer results in half HP values.

Fixed a small thing where the Lab debris wasn't centered properly.

Fixed a thing where Portals gave an error when the player dies.

Sentry Gun should no longer crash the game.

Fixed a Scorpion drawing error.

Misc

More pitch shift on the weapon sounds.

Getting hit by Flame Traps now plays a burn sound.

The drip sounds playing in sewer now have a big pitch shift.
Enjoy the update, we're back to work on the Palace! The coming updates might seem a bit smaller than they are normally (or maybe not) because there'll be some behind-the-scenes work happening on
the
Nuclear Throne. We want to make an exception to our usual open development, and get that part working 100% before we reveal it to everyone.
We also want to take a moment to thank Tom "Sleepcycles" for
his 100th Nuclear Throne episode
!
Don't forget to join our livestreams on Tuesday & Thursday from 1PM to 5PM CET, and let us know what you think here in the forums!

24
Ohodnotit