Update #16 - Fifty Weapons & High Level Chests - Week of February 14th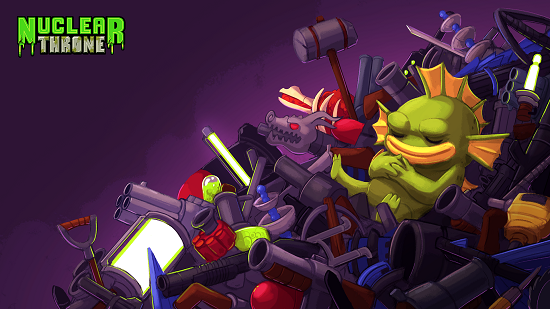 This week brings two brand new high-level systems to the game. Both have something to do with the Crowns. One of them is very cool, the other is very mean. We love both. Expect some more cool changes to the Crown Vaults next week, as Paul has been working on something very exciting for that.
Joonas also finished all the mutation sounds this week, which is a good reason to pick some you normally don't go for!
Other than that, we now have a new Crown that deals damage over time but gives you ammo and sometimes even weapons, sounds for Wolves and Lab enemies, the very powerful Laser Cannon, and some notable fixes to the way Plant's camera behaves! That's beside the usual load of fixes, balancing, and small additions.
Anyway, we'll stop writing so you can get to playing with over fifty as soon as possible. Please don't forget to share the word about the game, and let us know what you think on Twitter, Facebook and on the forums!
Features
Something very mean waiting for you after the first Crown Vault!

Something very mysterious waiting for you in the second Crown Vault!

Unique sounds for all mutations!

Crown of Hatred is now the Crown of Love. There's a new Crown of Hatred that deals damage over time in exchange for drops.

A Laser Cannon, lifted straight out of Super Crate Box!

Sounds for the Wolves & all Lab enemies.

Balancing

Ravens now no longer shoot you from point-blank range.

Plant's camera now only locks to the Snare when the right mouse button is held. This doesn't work with gamepad yet, but we're planning a big update to overhaul all the input code soon that will fix that.

The Opposite Crown has been removed. For those wondering what it even did, it made the rare floor tiles common, and the common floor tiles rare. Something that wasn't very interesting, didn't look very good, and messed up the gameplay.

Fixes

Eyes' Telekinesis no longer works on enemy lasers.

IDPD no longer shows up in Crown Vaults because that's disrespectful.

For the third time: Chicken no longer teleports...

Lil' Hunter now plays its own sound at appearance instead of Big Bandit's.

Secret level now loads up to 100%.

Misc

A little effect when healing.

Lab enemies now appear after looping.

Some changes to the walls in Crown Vaults.

Chests now have their shadow 1 pixel higher and it looks so much better!
Enjoy, and sorry for those mean things!

0
Gostei