Update #28 - Interdimensional Chests - Week of May 23rd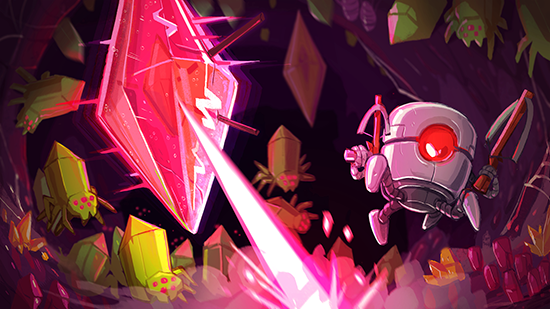 This week features a lot of behind the scenes work, a ton of fixes, some interesting balancing, and a small amount of cool new features! Let's just get right to it.
Features
Mutations are now shown on the game over screen.

You can now stumble upon rare IDPD Chests.

Crown Vaults and ??? now have their own ambient tracks.

Balancing

Spawning into a level now destroys a nearby walls. This'll actually have a bit of an influence on the gameplay, so we're curious to hear your thoughts!

Less enemies spawn around Big Dog.

Toxic Barrels no longer spawn right next to you.

Fixes

The invisible/invincible character glitch should be fixed.

The volume changing sqrt bug should be fixed.

Fixed a lot of bugs related to quick restart. This should get rid of the tan screen bug, and the automatic return to main menu bug.

Rhino Freaks should no longer glitch into walls.

Weapons no longer travel with you after dying on a portal.

Fixed a bug that was caused by bosses spawning right before/after your death.

Fixed an error caused by dying during the Big Dog battle.

Misc

Ambience tracks are now streamed, should decrease loading times a tiny bit.

Big Bandit now has a new dash sprite, closer to what it'll eventually look like.

The update icon now looks nice.

You can now quick restart with the gamepad, it's the same button you use to pick up weapons.
Cool stuff from the community
Ganil has been working on his amazing set of figurines, adding
I.D.P.D. Grunts, Crystal and a little extra to an already amazing collection.
We found
this amazing artwork[/b] in the nuclear-throne Tumblr tag, and we very much enjoyed the [url]Refund Request thread
[cheezopath.tumblr.com]
full of terrible Nuclear Throne moments.
Forum Member Solid offered a super hard Evil Wizard challenge, which led to some
amusing videos
, the challenge ended in a
tie
between three top-level players. With how excited
I become when looping with Melting
[www.twitch.tv]
, it should be clear how amazing their efforts this week were. We can't wait for the
new challenge
.
Don't forget to check out
TenguDrop
as Keaton prepares a new update video,
Sleepcycles
for some high-level and insightful play.
This week
While we continue on wrapping up World 7, we're starting to reach out to earlier parts of the game to apply balancing. It's a bit of a stretch right now, but we're really excited about the things we're working on right now. We can't wait for all of you to see them.
Enjoy!

18
Rate up