Groupe officiel
Krater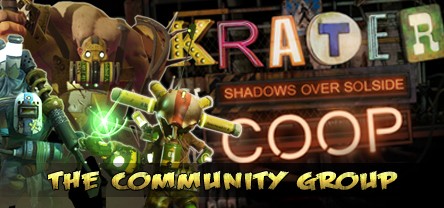 Krater - Official Game Group
1,815 Membres
|
145 Dans le jeu
|
470 En ligne
|
0 Dans un chat de groupe
Krater brings you far into the future of a post-apocalyptic Sweden. Once home to IKEA, Vikings and Minecraft, today its primitive inhabitants scavenge the lush overgrown world for technological artifacts.

Join the other freediggers of Krater in the Official Game Group. Learn more about the game and discuss your adventures in the Underside!
Official Krater Website

Krater Coop release October 23

Cliquez sur une des images ci-dessous pour en faire votre nouvel avatar.
Dear residents of Solside,
Today we've released localization in Hungarian and Spanish, provided to us by two amazing community contributors.
Krater 1.1.09 Release notes
New Content
- Added Hungarian Translation*
- Added Spanish Translation**
*Courtesy of Zsolt Brechler
**Courtesy of Fernando Rodríguez Álvarez
Voir les 25 commentaires
1 événement au cours des deux prochaines semaines
Les horaires de tous les événements sont affichés automatiquement dans le fuseau horaire de votre système local.
Afficher tous les événements