Grupo oficial
Contagion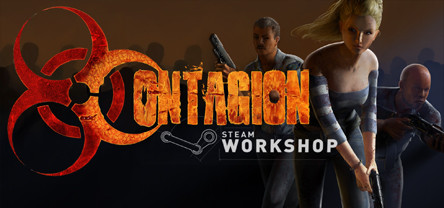 Join our friendly community where fans and developers discuss the game!
64,651 Miembros
|
5405 Jugando
|
16,428 En línea
|
1 En el chat del grupo
Ever Changing Gameplay
- Play alone offline or online with a friend(s) and other players. You begin your story as a survivor but how long until your taste buds hunger for flesh? Each round you'll find the weapons, ammo, and item placements randomized. Played through a dozen times and think you got it all figured out? Our pathing and objective system complimented by the random spawning system will make each round completely unpredictable and for many have led to hundreds of hours of game-play. We didn't stop there as we included an intelligent zombie spawning system that adjusts to the player's actions, location, and difficulty setting. This goes far beyond an AI Director.
Unique Game Modes
- More than 3 Unique Game-Modes each including a vital smartphone app to help guide or provide important information to complete your goals. Find yourself in 8 environments that are always changing each round keeping things fresh and exciting (More on the way and all Free).
An array of weapons and tools
- Over 20 weapons where deciding which to use and when is a vital strategic choice. Not only weapons but helpful items to patch up, put out flames, and navigate other obstacles that require you sacrifice inventory space if you wish to proceed or unlock areas that may or may not have the ammo, first aid, or weapons you so desperately need (More on the way and all Free).
A dedicated team
- A Team dedicated to further optimizing, balancing, and including new content long after release not to mention 2 planned FREE DLC Bundles and working on both the Mac & Linux Platform (Including the Steam Machine) Also possible Oculus Rift support and much much more. One truly unique Zombie Survival Horror experience you can't find anywhere else.
Official Website

Community Forums

Contagion Facebook

Haz clic en cualquiera de las siguientes imágenes para convertirla en el nuevo avatar de tu perfil.
1 evento en las próximas 2 semanas
Todas las horas de los eventos se muestran automáticamente en tu franja horaria local.
Ver todos los eventos