Halloween is Only Fifty Days Away!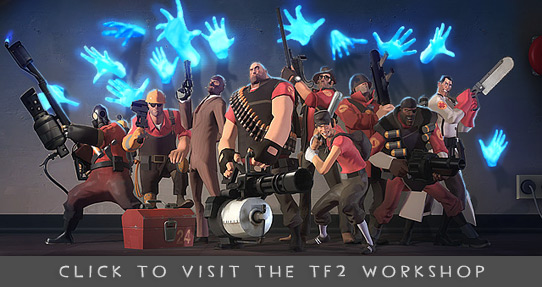 It's a well-established fact that every Halloween, all the ghosts, goblins, Draculas, bigfoots, Frankensteins and Area 51 aliens leave their house at the cemetery to scare humans. But what would happen if you snuck down to the cemetery
before
Halloween?
You would die.
Of scaredness? No!
Of boredom.
That's because between now and October 31st, all the monsters are busy having meetings (about terror) and conducting focus groups (to test all the latest scaring techniques). Oh no! What's that chupacabra doing lurking in the shadows? (Answer: Reading a spreadsheet about blood.)
Scariness doesn't just
happen
, people. It's serious business. That's why we're giving you until October 1st to fill the Steam Workshop with
horrifying Halloween-themed cosmetic items.
If you're not an item-making sort of person, you can still keep busy. Why not
visit the workshop
and rate other people's Halloween-themed items? Rating terrifying items will also help you build up your resistance to being scared before we unleash this year's Scream Fortress update. Other tips: Pay people to jump out and yell "Boo" at you. Have somebody paint ghosts on their car and then try to hit you with it. If you know an ugly person, why not ask them to try scaring you? Every little bit helps.

3
Gosto