TF2 Action Figures Are Out Now!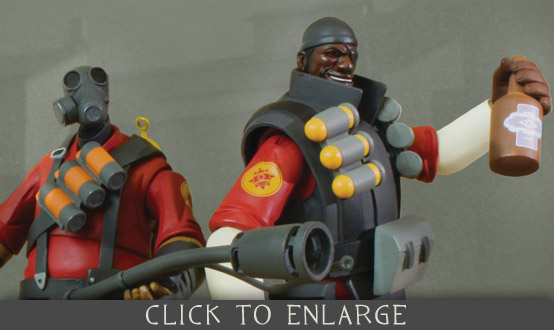 Hey, Scout superfans! Scout here. Some doll-makin' company called NECA told us they were gonna make action figures based on the
best, most popular team member in TF2.
Well, I just opened the box they sent us, and not to tell NECA their business, but MAN these two dolls do not look
anything
like me
.
Don't get me wrong, logically they GOTTA be ME. Right? I just dunno why they didn't start with my traditional outfit, or at the very least Scuba Scout or Kung Fu Fortress Scout or whatever. I guess they're tryin' the most obscure variants first to whet your appetite for the good ol' Classic version.
Still, the way I see it,
Chubby Firefighter Scout
and for some reason
One-Eyed Black Scout
are better than no Scout at all. So be sure to hit up your favorite retail establishments (Toys 'R' Us, FYE and Hastings) or online (
Amazon
[www.amazon.com]
and the
Valve Store
) because these odd-lookin' Scout dolls are gonna sell like odd-lookin' hotcakes.
—Scout

14
Vota