The First Entirely Community-Created Update is LIVE!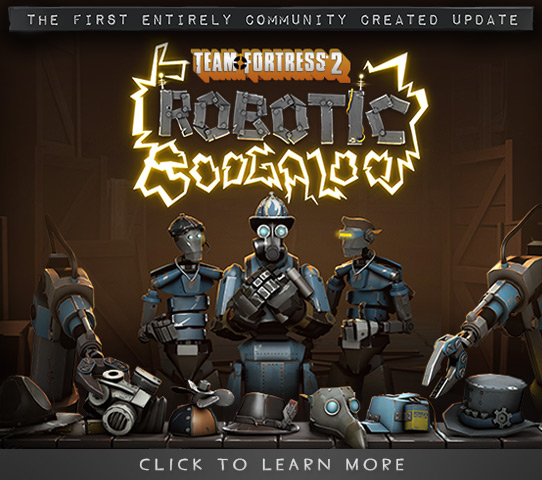 When we first launched the Workshop back in 2011, we had no idea what the TF2 community was capable of. As the hats, beards, boots and hairdos started rolling in, we realized there was a huge well of creativity out there. But we didn't appreciate just how deep those waters ran until the community-made updates started appearing. Now we've finally gotten to the point where we're able to shine a well-deserved spotlight on your efforts, starting with the
Robotic Boogaloo Update
, which includes
57 new items
—the most community items we've ever shipped at once. Currently the items are only available in RoboCrates. RoboCrates will become rare drops after June 3rd.
This update is 100% created by the TF2 community. And when we say everything, we mean
everything
—the in-game content, the update hub website, the animated short, the comic, even the splash images in the Steam store. Even better, everything you created avoided the classic trap of using other companies' intellectual property. (Those of you working on a Darth Vader Pyro mask, we've got some bad news for you.) Plus, in a first for the Team Fortress economy, all the creators of the Robotic Boogaloo Update have decided to share the revenue earned from the sale of RoboCrate Keys. That means that
everyone
involved will be profiting from this update, not just the people making hats.
This doesn't mark the end of Valve-produced TF2 updates, by the way. As far as we're concerned, there's plenty of room for both to happily co-exist. We're in uncharted territory here, and it's exciting to be exploring it with you. Amazing work, everyone!