Workshop Update Brings Discussions, Stats, and Change notes
Today we're unveiling a few significant additions to the Steam Workshop to help modders and item creators better communicate and understand their fans and customers. Many of these features were first developed and tested on the 1,500 items in Steam Greenlight and are now being rolled out to the nearly 500,000 items across 24 products in the Steam Workshop.
First up, we're adding discussions to each Workshop item detail page, allowing modders or fans to create new threads and discuss any particular aspect of the Workshop item or mod in a more detailed way.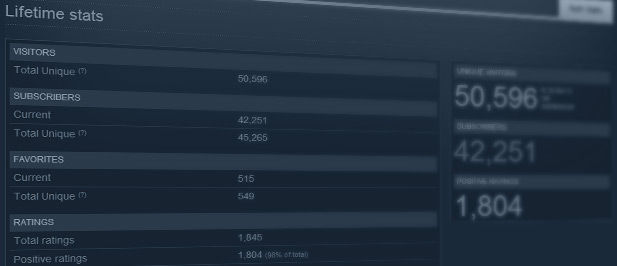 We're also bringing detailed stats to every item in the Steam Workshop. As a content creator in Workshop you can now see how many people are looking at your item, rating it, and adding it to their Favorites. Additionally, there are detailed graphs for games that support subscribing to items, showing new visitors and subscribers over time.  
Each Workshop item page will also now feature a tab for change notes, where you can see when the item or mod has been updated. These change notes can be edited by the author to add detailed notes or just left as a history of edits to the file.

For those of you using collections to share your favorite Workshop items, show off sets of items, or manage server map rotations, we're making it easier to manage your collections. Now you can add or remove items from your collections through an "add to collection" button on each item detail page in the Workshop.  
And finally, we've added
general discussions
to the front of Workshop, where you can leave us feedback, discuss recent changes or make suggestions for features you'd like to see implemented in the Workshop. You can start by letting us know what you think about the changes made in this update and if you encounter any bugs or issues.
Happy modding/modeling/animating/scripting/writing/animating/creating! We hope to hear from you soon!
-The Steam Workshop Team

0
Tetszik