Officiel gruppe
Red Faction: Guerrilla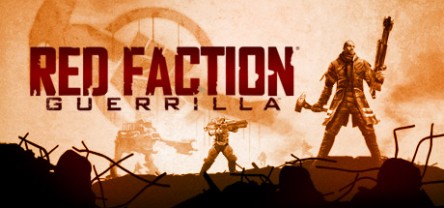 Better Red Than Dead
3,858 Medlemmer
|
387 I spil
|
1,280 Online
|
1 I gruppechat
Mars is your set piece. Grab your sledgehammer and take back Mars for the people.
Official community site for Red Faction: Guerrilla

RedFaction.com

UPDATE 14th November 2014:
Changelog:
- Added voice chat "push to talk" option. It's enabled by default and it can be changed in the audio options. It's binded to key "Z" by default.
- Added "Join chat" in matchmaking lobby. When using this option you will be joining RFG chat root.
- DirectX 11 is now default renderer. You can turn it of by -nod3d11 command line parameter.
- Changed minimum player number for Siege and Large Mixer to 6.
- Playlists order fixed.
- Locked achievements should be now visible
- Fixed save game names for the the Bonus campaign.
- Fixed mouse acceleration when driving walkers.
- Added ability to view Steam Gamer profile in leaderboards and in-game scoreboard.
- Changed "VIEW GAMER CARD" to "VIEW STEAM PROFILE"
- Stability improvements.
UPDATE 10th November 2014:
Changelog:
- Experimental DirectX 11 implementation. It replaces DirectX 10 and is disabled by default. To enable it use -nod3d9 command line parameter.
It should fix bugs caused by KB2670838 windows update.
- Added possibility of changing game resolution from the command line. Use -w resx -h resy.
- Fixed not working command line switch to force GFWL save migration (-migrate_live)
- Player Names are displayed correctly in Leaderboards.
- Changed playlist settings. Mode-Min/Max (Anarchy-3/6, Bagman-3/6. Team Anarchy-4/8, Team Bagman-4/8, Team Objective-4/10, Siege-4/12, LargeMixer-4/12)
- Removed XP limitation for all multiplayer game modes.
- Added logs for save migration process. If your save games are not migrating look at save_migration.log file.
Additional notes:
- If error about missing DirectX dlls (for example d3dx_39.dll) appears, you need to install newest DirectX package. After beta it will be included into Steam instalation script.
- For those of you that can not change the game resolution, please update graphics card drivers and delete file DRIVE:\Users\YOUR_USER_NAME\Documents\My Games\Red Faction Guerrilla\Options\rfg_display_options.rfgs_pc
- If you have black screen bug and only hear sounds, please try DX11 mode (-nod3d9 command line parameter)
If the game crashed, a dump file should be created in STEAM\SteamApps\common\Red Faction Guerrilla\build\pc\cache\ folder. It's name looks like rfg_11_07_1_33.dmp.
Sent us those files as they can speed up bug fixing process and please also provide a detailed bug description.
ORIGINAL POST + Instructions
Today I would like to invite you all to participate in the public beta of Red Faction Guerilla with full Steam Support and complete Games for Windows Live Removal.
-) Matchmaking and Multiplayer via Steamworks
-) No Games for Windows Live sign-in required
-) Leaderboards via Steam
-) Voice Chat via Steam
-) Achievements via Steam
-) Uses DX9 Renderer by default as DX10 created a lot of problems and resulted in performance drawbacks (that should also fix Win8 issues)
-) At first launch the game attempts to migrate savegames from GFWL to the new system
To access the beta please do the following:
Follow this guide
http://ds.nordicgames.at/SteamBetaBranchGuide.jpg
Under Step 1 select of course the Red Faction Guerilla App
Password for step 4 is: nordicrfgbeta
The branch for Step 6 is named publicbeta
UPDATE 5th November 2014:
Changes:
- The time limit between lobby disconnects is doubled
- Minimum players required to start the team game is four and for normal game it's three.
IMPORTANT:
- The game generates dump files when crash occurs. Dump files are located in the game folder (same as rfg.exe) and thir names are like rfg_*.dmp. Please send it to rfgsupport [~at~] nordicgames.at
Please keep up the reporting!
I would like to invite everybody to report errors and bugs here so we can further improve the game.
Se alle 36 kommentarer
1 begivenhed i løbet af de næste 2 uger
Alle begivenhedstidspunkter vises automatisk i den lokale tidszone for dit system
Vis alle begivenheder