Grupo oficial
Penguins Arena: Sedna's World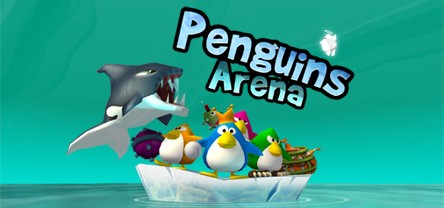 Save the Penguins, Save the World!
514 Miembros
|
33 Jugando
|
104 En línea
|
0 En chat de grupo
Penguins Arena is a thrilling and innovative First Penguin Shooter with quick, hectic rounds and where the magic of reincarnation, combined with the supernatural ability to return to the game as a ghost, ensures that your character has every chance to change your tribe's fate, even in the afterlife.


To play with your friend on your server remember to create a "Multiplayer" game and to open/forward the 28000 through 28002 ports to your computer!
Official Website
Official Forums
Penguins Arena on Facebook
Haz clic en cualquiera de las siguientes imágenes para convertirla en el nuevo avatar de tu perfil.
- Add the "Custom maps" game mode, which allow player to play maps created with the PAME (Penguins Arena Map Editor).
- Add 4 custom maps created by players (Thank you Hugo, Cugel, Ekedens and iCreepy).
- Fixed: sometimes, penguins fall into the water but are still alive.
- Fixed: some achievements can't be unlocked.
- Fixed: the game crash when the player try to join a full server.
- Fixed: can't bind 'E' .
Dejar un comentario
1 evento en las próximas 2 semanas
Todas las horas de los eventos se muestran automáticamente en tu franja horaria local.
Ver todos