Grupo Oficial
Penguins Arena: Sedna's World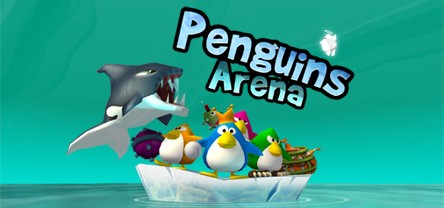 Save the Penguins, Save the World!
515 Membros
|
43 A jogar
|
113 Online
|
0 Em chat de grupo
Penguins Arena is a thrilling and innovative First Penguin Shooter with quick, hectic rounds and where the magic of reincarnation, combined with the supernatural ability to return to the game as a ghost, ensures that your character has every chance to change your tribe's fate, even in the afterlife.


To play with your friend on your server remember to create a "Multiplayer" game and to open/forward the 28000 through 28002 ports to your computer!
Official Website
Official Forums
Penguins Arena on Facebook
Clica em qualquer imagem abaixo para torná-la no teu novo avatar de perfil.
- Add the "Custom maps" game mode, which allow player to play maps created with the PAME (Penguins Arena Map Editor).
- Add 4 custom maps created by players (Thank you Hugo, Cugel, Ekedens and iCreepy).
- Fixed: sometimes, penguins fall into the water but are still alive.
- Fixed: some achievements can't be unlocked.
- Fixed: the game crash when the player try to join a full server.
- Fixed: can't bind 'E' .
Deixa um comentário
1 evento nas próximas 2 semanas
Todas as horas dos eventos são automaticamente apresentadas no fuso horário do teu sistema local
Ver todos os eventos