Grupo oficial
Penguins Arena: Sedna's World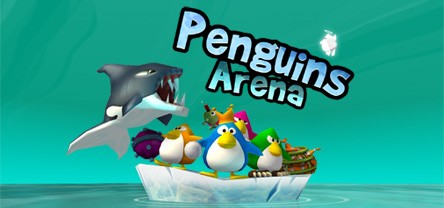 Save the Penguins, Save the World!
734 Membros
|
69 Em jogo
|
170 Disponível
|
0 Na conversa
Penguins Arena is a thrilling and innovative First Penguin Shooter with quick, hectic rounds and where the magic of reincarnation, combined with the supernatural ability to return to the game as a ghost, ensures that your character has every chance to change your tribe's fate, even in the afterlife.


To play with your friend on your server remember to create a "Multiplayer" game and to open/forward the 28000 through 28002 ports to your computer!
Official Website

Official Forums

Penguins Arena on Facebook

Clique em qualquer uma das imagens abaixo para torná-la o novo avatar do seu perfil.
We need your help to Greenlight
Discovering Colors - Animals
Discovering Colors - Animals is a coloring game featuring fun animals! It's aimed at young children, and is recommended for ages 2 to 5.
We know this is not the typicial game you see on Greenlight but a lot of us have kids and we think that an app like ours can be a good introduction to computers for them.
A vote for it would be greetly appreciated! <3
Discovering Colors - Animals on Greenlight
.
In another news, 5 years after the release of Penguins Arena on Steam we still have an update in store for you. This will not be a piece of cake but we loved to find a way to push this update to you guys! Stay tuned.
Ver todos os 3 comentários
1 evento nas próximas 2 semanas
Todos os horários de evento são exibidos automaticamente no seu fuso horário local
Ver todos