Raiders of the Lost Art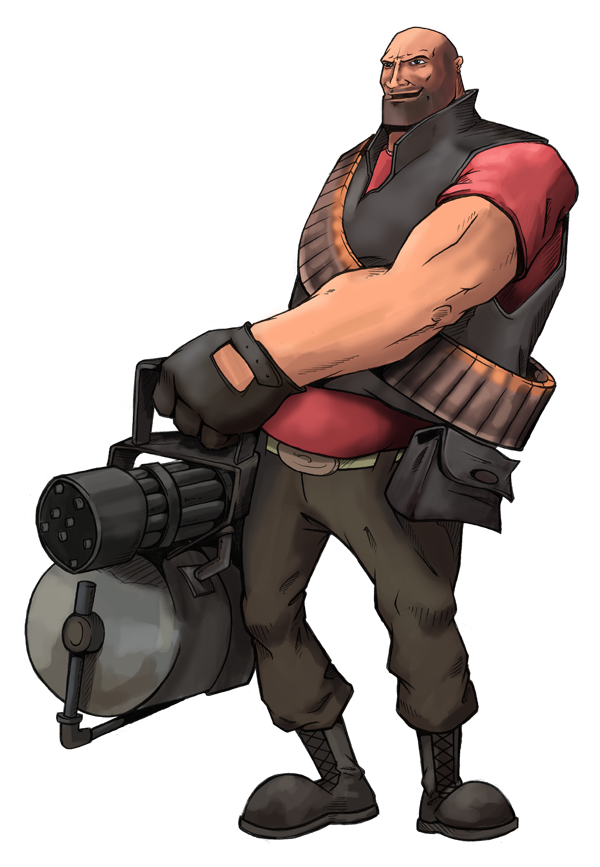 After doing a bit more digging through my hard drive, I found this piece of unused art we got concepted. I'm pretty sure you know who this guy is. It's not entirely finished (there's a couple of smaller elements that I would have gotten added had we gotten the okay to do this), but I figure it's best for you lot to see it rather than have it unseen forever. I think the adaption of the cel-shaded style turned out really well, and he looks quite nice against our other character portraits.
The plan was to have The Heavy tie into the game, as an exclusive for the Steam version. At a point in the game, you'd discover a special shop fully decked out with various guns and long ammo chains decorating the walls. This shop would belong to The Heavy, and would be how you'd unlock the planned Team Fortress 2 items (the concept which you probably saw in an earlier post). As you progressed through the main game, you'd be able to find special items which could be traded to him for the TF2 items. This art was used to give an idea of how a conversation dialogue would look between Lucas and The Heavy (which is why it's in our portrait style).
We pitched the idea to Valve around the same time we ptiched the game, but unfortunately this element didn't happen. Sometimes ideas just can't go ahead, for whatever reason.
Again, at least we got some cool art out of it!

0
Stem opp