Cut Development Stuff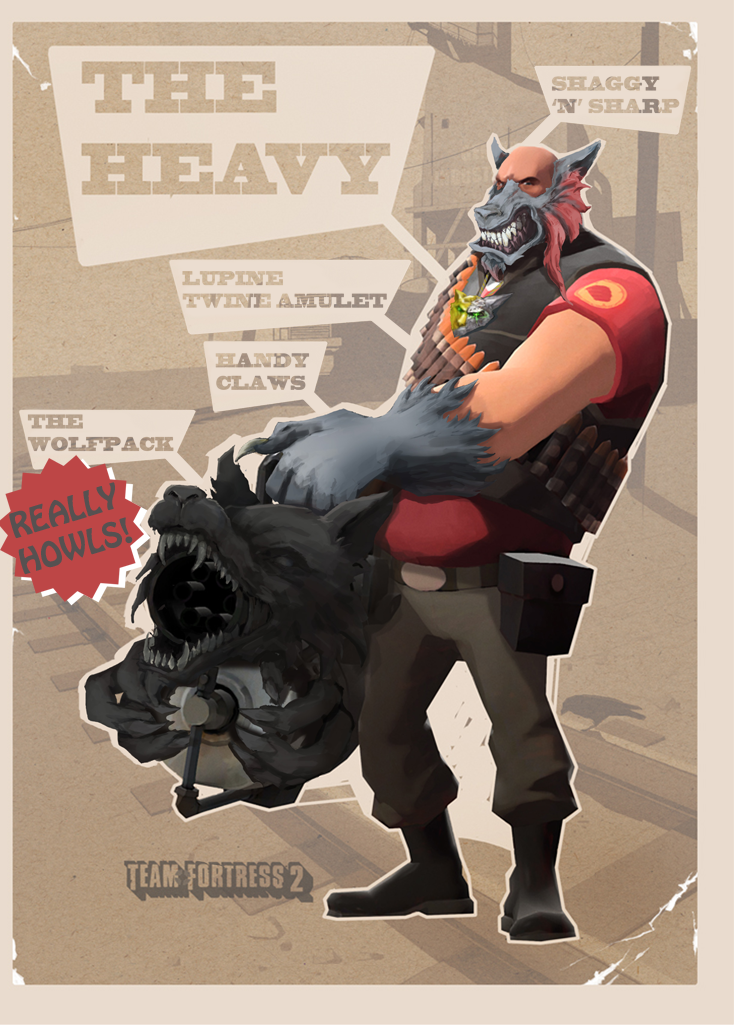 During development, things always, ALWAYS get cut. Unfortunately, that's just how it is. Way early on, one of the things I wanted to do for MacGuffin's Curse was to reward Steam users with special stuff as they progressed through key points in the game. We both thought that it would be cool to try and incorportate Team Fortress 2 stuff into the game as extras - a lot of other games seemed to be doing it, so it was worth a try! Unfortunately, we weren't able to get it happening.
But I can't sit on this pitch art any longer, so here's what we had planned. There were four key elements to this costume. All items (excluding the amulet, which could be worn by any class) were designed for the Heavy:
Lupine Twine Amulet
- A pin/badge based prop, based on the amulet that Lucas swipes in the game.
Shaggy 'n' Sharp
- A hat prop that gives The Heavy super-cool mutton chops and a wolf muzzle. Sideburns would be either red or grey-blue, depending on whether you were on Team Red or Blu.
Handy Claws
- Based on The Heavy's Killing Gloves of Boxing melee weapon, these werewolf claws look really awesome!
The Wolfpack
- Based on The Heavy's Minigun primary weapon, this was the thing I was most proud of. I really love how awesome it turned out, and the idea of having it "really howl!" when you kept the minigun idling would have made for some great psychological warfare as they could hear a howling gun off in the distance!
Alas, none of this ever happened, but at least we've still got the super cool promotional art.

0
Θετική ψήφος