Offisiell spillgruppe
The Haunted: Hells Reach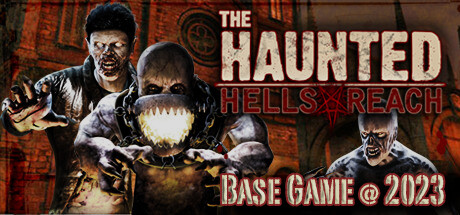 891 Medlemmer
|
121 I spill
|
322 Tilkoblet
|
0 I gruppesamtale
Ingen informasjon oppgitt.
SyA salutes all friends of "The Haunted: Hells Reach" and wishes a successful and healthy 2016!!! Here are the news:

Like everyone knows, was "The Haunted: Hells Reach" 2012 a victim of the insolvency of THQ. The console versions could not be completed and the license to sell the PC version has been, as well as the distribution rights of many other videogames, acquired by Cosmi on the purchase of THQ subsidiary Valusoft (Press Release Apr 25, 2012).

Needless to say that the video game marketing ran then absolutely differently than planned between THQ and SyA.

On November 4/5, 2013, the companies SyA - Signo y Arte (Licensor) and Cosmi Valusoft (Licensee) signed a contract for the premature termination of their Publishing and Distribution Agreement by end of the day March 31, 2014. For this purpose, the following public statement was agreed and issued on Nov 11, 2013: "Cosmi Valusoft and the Licensor of "The Haunted: Hell's Reach" Signo y Arte, S.L., have reached an agreement under which all rights to "The Haunted: Hell's Reach", have reverted to Licensor, and Licensor is free to bring the game to market."

About two months after the last permitted sales by Cosmi Valusoft the game was relaunched by SyA. Unfortunately we had to take note of the fact (immediately after the relaunch and our last report in the community Dec 2014) that we were not the only ones, and still are, which sell "The Haunted: Hells Reach" - even though we have NOT assigned rights to distribute/sell the game to others. This led to unexpected legal considerations and SyA again could not act as it was desired. In other words, we now also have to bear the additional costs of Investigation, criminal charges and damages actions in the different countries in addition to our extremely high losses due to the insolvency of THQ.

The GOOD news - due to the criminal investigations we saw that there are more friends of Haunted, as we thought because of what we saw until then. Also the market appraisal of SyA and THQ were correct - quite contrary to other opinions. That's why SyA will reactivate the plans for "THE HAUNTED: BACK TO HELL" from October, 2011.

In addition, and in the meantime we think about the completion of DLC/Add-on for "The Haunted: Hells Reach" for all legally acquired games.

So, it goes on and 2016 will be an exciting year.
Se alle 15 kommentarer
1 arrangement de neste to ukene
Alle tidspunkter for arrangementer vises automatisk som lokal tid for tidssonen din
Vis alle hendelser