Groupe officiel
Professional Farmer 2014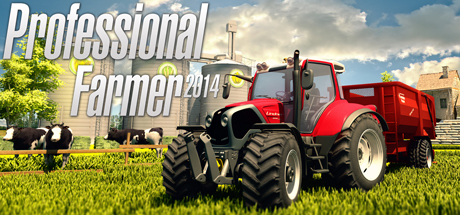 648 Membres
|
44 En jeu
|
111 En ligne
|
0 dans le chat de groupe
Aucune information disponible.
Changelog:

- New machines added (e.g. Teleloader)
- Grass bales can be pressed
- Grass bales can be sold
- Gras bales can be added to gras silo (just drop them)
- If cows get grass and silage you get even more milk
- Large plows return to neutral position now
- Trailers turn now properly when connected to Friend Cutter Pro
- Corn silage can be unloaded into grass silo to store it
- Improved swaths
- Improved a lot of machines
- Grass automatically grows on empty fields after a few month - but you get less as if you seed it manually
- Manually seeded grass gives less and less yield round after round (weeds)
- Combined cultivator/seeders cultivate even if the seed storage is empty
- Dunghill (grows in relation to animal number)
- Yield prices balanced
- Smaller bug fixes

Changelog (German):

- Neue Maschinen (z.B. Teleskoplader)
- Man kann Grasballen pressen
- Man kann Grasballen verkaufen
- Grasballen können auf das Grassilo geschmissen werden und werden so angerechnet
- Gibt man den Kühen Gras und Silage, bekommt man mehr Milchertrag
- Die großen Pflüge gehen jetzt in ihre Ausgangsstellung zurück
- Anhänger können jetzt richtig lenken mit dem Friend Häcksler
- Maissilage kann auf dem Grassilo abgekippt werden und wird dann im Silagesilo gespeichert
- Grasschwaden wurden verbessert
- Viele Maschinen wurde überarbeitet
- Gras wächst auf leeren Feldern nach ein paar Monaten von selbst, bringt aber weniger Ertrag, als selbst gesätes Gras
- Vom Spieler gesätes Gras gibt nach und nach weniger Ertrag (Unkraut)
- Kombinierte Grubber/Sämaschinen grubbern weiter, wenn kein Saatgut mehr im Vorrat ist
- Misthaufen (wächst relativ zum Tierbestand)
- Erntepreise angepasst
- Kleine Bugfixes
Voir les 11 commentaires
1 événement au cours des deux prochaines semaines
Les horaires de tous les événements sont affichés automatiquement dans le fuseau horaire de votre système local.
Afficher tous les événements