Ladybug Expansion Available!
The Ladybug DLC is now available for Hive! If you have the Ladybug, you can host a game with the Ladybug in it even if your guest hasn't unlocked the Ladybug yet.
The Ladybug's full price is $2.99 but will be on a launch discount at $1.97 for the first week!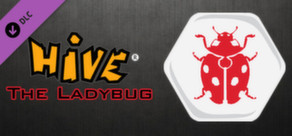 Ladybug expansion on Steam
We want to be very transparent with our pricing plans, so check out
this pricing post
for exact details on how we expect everything to be priced. In short: if you buy the expansions as they come out, you will get almost the exact same discount as if you bought all three expansions bundled with the game.
If you have the table top version of the game, you also may want to consider buying the
Ladybug expansion pieces
[www.amazon.com]
(
UK
[www.gen42.com]
) for that as well :)
Enjoy the Ladybug! Please let us know if you find any issues with it.
We'll keep working on the Mosquito and hope to have it out at the end of this month or in the first half of May. :)

5
Rate up