BattleBlock Theater Steam Update 1.1 is here!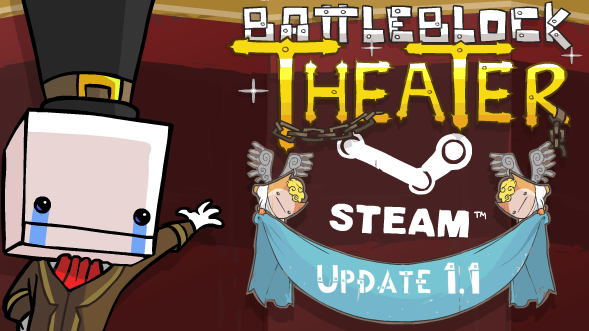 It's been a week since we've launched BattleBlock Theater on Steam. Since the launch we've been reviewing all feedback and have come up with a short list of changes in our first update that we're calling Update 1.1
Here's the breakdown:
Fixed an issue where the Castle Crashers Knight Prisoner was not awarding for a small percentage of players who own both Castle Crashers and BattleBlock on Steam


Added an Off option for in-game Voice Chat, and made Off the Default. Players should check their settings as some may have changed!


Made a minor change to Press to Talk remapping functionality


Fixed an issue with players 3 & 4 not displaying in the clipboard screen during Cooperative Local Arena Play.
---
In the past week, we've heard some great things about the game we want to share. Here's what Eurogamer Italy has to say:
"I filmati di presentazione sono realizzati ottimamente e strappano più d'una risata, nonostante la storia non sia incredibile."
I don't know what it means but I think that last word is incredible. We'll take it Italy!
Also, a users review had this to say:
"I got this game for $10 during the launch sale, and I highly recommend it at that price. It's no "Super Meat Boy", but I don't think we'll see a game that steals the throne for a long, long time"
All we can really do is hope that one day we make a game that can challenge the Super Meat Boy throne. Until then,
arrivederci
! (That's Italian for good bye!)

204
Rate up