Live in-game scoreboards added!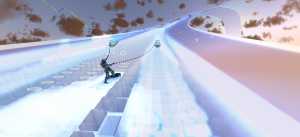 With the new live in-game scoreboards you can compete against previous rides by friends and by other top players. It also adds a nice way to see how your ride compares to your personal best. Please check it out and let me know what you think (right here, or at the forum). By the way, there's also a new option to disable live scoreboards if you'd rather play without them.
Radio this week is
Pretty Lights
[soundcloud.com]
!
The skin pictured above is
Soaring
which has some of the prettiest water yet achieved.
Have fun!

0
Rate up