Added music search, mod powerups, and album art skins!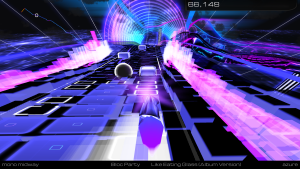 Music searching is in! Find it by hitting the big "Files" button in the song browser. Mods can now load their own models and textures for things like powerups and ui indicators. So, Pusher now has arrows and
Mono Midway
now works with any skin (powerups and all).
The screenshot above is Mono Midway using the
Azure skin
, which I highly recommend. DBN did a really nice job on the background objects and colors.
Fix: Blocks that force a match collection no longer disappear
Skins: added ability to use album art as in-game texture
Skins: added function to get dominant colors from album art: GetAlbumArtPalette()
UI: added search in song browser
UI: fixed mouse wheel scrolling

2
Rate up