Check out Nekro!
Our good friends over at darkForge Games have released their first title to Steam Early Access, Nekro!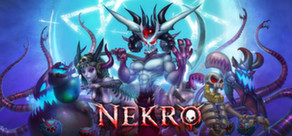 http://store.steampowered.com/app/246400
A legion of twisted abominations await your command in Nekro. Revel in the slaughter of the King's corrupted lackeys as you uncover the sinister history of your creation. Manipulate the flesh and souls of those who have passed beyond the veil. Use the sins of the fallen to unlock new summons and customize their skills in an ongoing battle of supremacy between the Undying Legions and The Order. Further tailor your experience by equipping various Powersets unlocking powerful new Nekro abilities with which to conquer foes.
Invite your friends to lay waste beside you over internet or LAN. Play as a powerful support character, The Evil and wield devastating psionic attacks. As your chosen ally progresses along side you they will unlock new abilities gaining both power and utility!
Key Features
3+ Upgradable Nekromancers: Choose between powerful Nekro specializations!

13+ Unlockable Summons: Customize minions and create the perfect demonic army!

40+ Unlockable Skills: Harvest corpses to strengthen your unholy followers!

20+ Game-Changing Trinkets: Strike down your foes and take from them everything they ever possessed!

8+ Levels to Explore and Dominate:Watch as limbs snap, blood permanently stains the battlefield and bodies explode with Nekro's unique Chaos System!

3 Factions to conquer or enslave:Turn the environment against your enemy by manipulating mundane objects into your twisted necrotic creations!

Steam Enabled: Unlockable Achievements, Steam Trading Cards, Emoticons, and Rewards!

Original Soundtrack: Over 12 blood-pumping music tracks!

1
Rate up