Grupo oficial
Rise of the Triad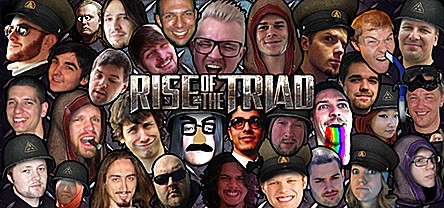 The World's Most Ludicrous Shooter Has Returned!
5,036 Miembros
|
259 Jugando
|
1,015 En línea
|
4 En el chat del grupo
Apogee Software and Interceptor Entertainment proudly present the rebirth of the cult-classic first-person shooter, "Rise of the Triad". Bigger, better and more ludicrous than ever before.
Rise of the Triad on Facebook

Rise of the Triad on Twitter

Rise of the Triad Forums

Haz clic en cualquiera de las siguientes imágenes para convertirla en el nuevo avatar de tu perfil.
1 evento en las próximas 2 semanas
Todas las horas de los eventos se muestran automáticamente en tu franja horaria local.
Ver todos los eventos