Offizielle Gruppe
Rise of the Triad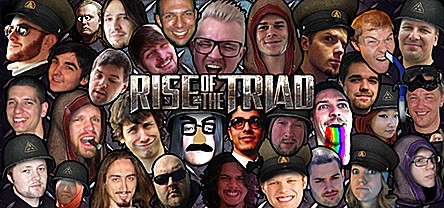 The World's Most Ludicrous Shooter Has Returned!
4,691 Mitglieder
|
309 Im Spiel
|
1,156 Online
|
3 im Gruppenchat
Apogee Software and Interceptor Entertainment proudly present the rebirth of the cult-classic first-person shooter, "Rise of the Triad". Bigger, better and more ludicrous than ever before.
Rise of the Triad on Facebook

Rise of the Triad on Twitter

Rise of the Triad Forums

Klicken Sie auf eins der unten angezeigten Bilder, um es als neuen Profilavatar zu verwenden.
1 Event in den nächsten zwei Wochen
Alle Eventzeiten werden automatisch in Ihrer Ortszeit angezeigt.
Alle Events