Official Group
MapleStory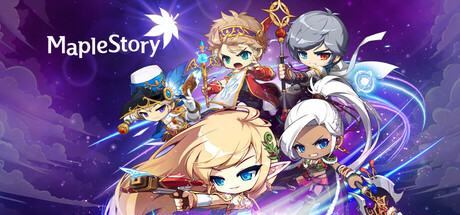 4,227 Members
|
374 In-Game
|
1,135 Online
|
0 In Group Chat
No information given.
Experience the full blast of summer with the FIREPOWER update: Become an Icy Agent or a Hot Agent and team up to receive maximum rewards! Get ready to rock with the sixth chapter of FriendStory. Explore two new regions-the mysterious Blackgate City and the Scrapyard, location of the crashed Black Heaven. Check out two new mini-games in Star Planet, and see what you create in Beefy's Kitchen. All this and the Beast Tamer is back and available for character creation for a limited time!
FIREPOWER: Hot and Icy
Become a Hot Agent or an Icy Agent based on your login activity level, and participate in tons of summer events! Each agent type receives special items, and they can team up to help each other out. Hot Agents can give Icy Agents special stat buffs, and Hot Agents receive a prize box in return. For an extra bonus, choose someone on your friends list (remember to choose carefully!) to be your Best Friend for this event and you'll both get 20 FIREPOWER Coins and receive a special effect when playing next to each other on the same map. When Icy Agents reach certain level-up goals, they'll receive a Growth Potion-and one for their Best Friend too. Parties that include an Icy Agent will also get bonus EXP.
FIREPOWER: Events
Select one of your characters under Lv. 100 to be a Burning character, and every time they level up, they will gain two additional levels as well (up to Lv. 100)! Earn FIREPOWER Coins through various events and monster drops to spend in the Coin Shop. The FIREPOWER Coin Shop has stocked a variety of chairs, mounts, scrolls and more. Break the giant ice block that appears in certain towns to earn restorative items, chairs and other great rewards. You also can participate in attendance and guild events!
FriendStory: Rock & Roll
The sixth chapter of FriendStory will rock your socks off! A new student comes to Shinsoo International School carrying a Rock Virus that infects the student body, making them play air guitar and act like rock stars. Join Irena's band to help them fight back with the power of music! A new mini game lets you show off your musical skills as you play guitar in the band. Once you've completed Chapter 6, you also have the option to play through the story a second time for special rewards and to see different endings.
New Region: Blackgate City
A portal to another dimension has opened, and strange demons are spilling out into Blackgate City! Players Lv. 100 to Lv. 150 can travel to this new area through the Dimensional Mirror. Help set up a defensive line and fight back against the invasion alongside the Night Angels and Demon Knights. Explore this dangerous area where five fierce new bosses will randomly spawn, and earn new Blackgate equipment!
New Region: Scrapyard
The giant airship, Black Heaven, crashed into the ground near Edelstein at the conclusion of the epic Black Heaven saga. Now players Lv. 190 and above can explore this new area. Visit the town of Haven and help the robots there with Daily Quests to earn new Energy Cores. Normal mode for Lotus is also available here, and beating him will give you more Energy Cores. Exchange your Energy Cores for AbsoLab Coins in Haven, and then spend the coins in the AbsoLab Coin Shop in order to acquire Lv. 160 Absolute Lab Set equips.
New Star Planet Games
Star Planet is receiving two new mini-games: The Legends Return!, and Supernatural Yut. In The Legends Return!, players compete 3 on 3 in a PvP style brawl. Each player selects an avatar and receives five skills they can use. Avatars can grow and level up by defeating monsters or opposing players. Whoever receives the most points at the end of the battle wins. In Supernatural Yut, players receive a Yut Power (affecting them) and a Piece Power (which can affect the opposing player). Use the special powers before you toss the yut to add an extra element to the game.
Beast Tamer is Back
You asked, and we listened. We are pleased to announce that the new and improved Beast Tamer job will once again be available for character creation for a limited time! From skills to quests, Chase is ready to show off her updates and improvements. So get ready to experience the Beast Tamer before time runs out and see why she's back and better than ever.
Enter Beefy's Kitchen
Guess who's looking for an extra hand in the kitchen! Beefy the Grill Master wants to go have adventures, so he needs someone to help out in his culinary dojo! Players Lv. 33 and above can enter Beefy's Kitchen at the Nautilus and help him complete missions such as hunting monsters and completing party quests to raise the level of the kitchen. As it improves, you'll unlock the ability to cook up powerful potions, Cash Shop items and more. Make Beefy's Kitchen shine and earn rewards such as a medal and new chef-themed equips!
View the full patch notes here:
http://maplestory.nexon.net/news/updates/update-notes/00IcV
See all 5 comments
1 event in the next 2 weeks
All event times are automatically displayed in your local system time zone
View all events